Okay, let's continue this very5 long Part2. Be sure to read the Part1 and the intial part of Part2 before reading this one (confused?)...




Again, the newer buildings of London sharing the same space and scenery of the old London
Another visitor adimirng the city. At the back there is a hot air-balloon set-up by BT in conjuction with London becoming the 2012 Olympics host.
This thing's huge! The closer you get, the more massive and enchanted it becomes...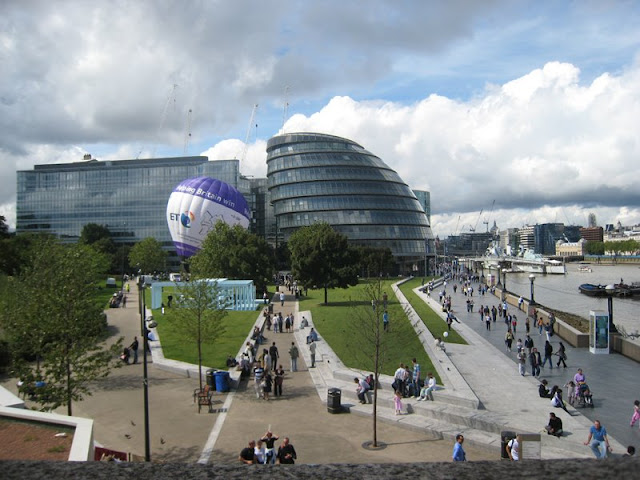 The new side...
...and the... aaaa... old... no, wait. Aha! And the hybrid side of London. And the Thames in the middle of it all~
Here i am, on one side of the bridge. Let's get moving
An artistic pic. Quick! Make this into a postcard or something.
Another artistic pic. God, this place is photographer's heaven.
That's where the bridge splits... and pics of the bridge ends.
This is the London Towers. Google it for more info.
An interesting gate which i found on one side of the building; Traitor's Gate. Surely there must've been a lot of traitors back then up to the point where they had to make a gate...
Looks kinda eerie... people used to say that there are still ghosts living in there somewhere... don't know about now though.
The main entrance of the building. Tickets will need to be puchased at another building close by
Some street artists making a living selling their artworks. Quite nice, but didn't have the dough... darn again (budget traveller... huhuhu)
The Big Ben! Luckily we got to hear the chime before we left.
Eye of London as seen from afar. Didn't dare to go there on this weekend. There'll be such a huge crowd and we've got one at home...
bvc100 ponders which is taller...
What's with the congestion charge they've put up in London? I don't see no congestion
Another artistic (sort of) pic. The Westminister Bridge close to Big Ben.
Last stop for the London trip, the Chelsea Stadium. I'm so dead tired by now, i've forgotten the name of it.
Hmmm... since i like any shades of blue, this stadium does look nice withe the blue theme (well, they are the Blues, right?)
Looks more modern and contemporary than the ones i've seen in Malaysia these football stadiums...
At long last, i'm tired, want to head to Bedford fast and get some rest. Thank you Manchester, thank you Liverpool, thank you London.
Next up; Part3 - Bedford, the town and the journey home...